We Can Help You Sell Your Home in Brunswick County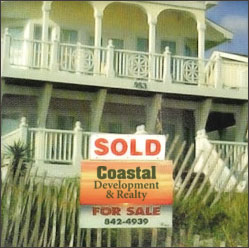 Coastal Development & Realty is a close family of real estate professionals who specialize in marketing North Carolina real estate along the southeastern region of the state. Coastal Development & Realty acts as a general brokerage real estate firm, and our experienced brokers have represented sellers in the North Carolina real estate market for over 30 years, from Bald Head Island to Sunset Beach.
We're highly qualified to assist you in pricing your home competitively and matching you with the right buyer. All of our brokers are REALTORS® who stay apprised of key issues affecting the real estate markets and willingly share this information with you. We are members of the National Association of REALTORS®(NAR), the North Carolina Association of REALTORS (NCAR), and the Brunswick County Association of REALTORS® (BCAR).
Our brokers live in the Brunswick County area and understand the local market, whether you're in Holden Beach, Oak Island, Ocean Isle Beach, or Sunset Beach. We continuously educate ourselves on the latest guidelines, regulations, methods, and technologies that are necessary to successfully promote your property. From local referral networks, to our MLS integration, we know how to attract buyers to your piece of North Carolina real estate.
We will determine the correct price range for your property by researching the current market for comparisons. We'll advise you on how to make your property more appealing to buyers. We'll also go over the selling process, discuss agency relationships and obligations, and explain contracts to you. During the process, we'll stay in contact with you regularly on the status of our efforts, will relay offers on your property, and be there with you at closing. We enjoy helping you prepare, market, and sell your property. At Coastal Development & Realty, our Brokers are with you every step of the way. Contact Us to learn more!
Recently Sold & Pending Homes
It was such a pleasure to work with Erica. She was always available, listened to what I had to say and offered expert advice every step of the way. Additionally she handled an issue that was important to me when the sellers and seller's agent pulled an 11th hour stunt even though she did. It have...

traceyshields913


April 16, 2020

We had an excellent experience selling our home with Erica. We spent a lot of time away from our home while it was on the market and Erica went out of her way to accommodate. She never hesitated to go the extra mile to get the house ready for showings when we were not in town. She helped...

user536945


January 28, 2019

I was selling my house during a downturn in the market. Listed off and on over several years. Erica was always encouraging when I was feeling down. Her perseverance was what sold the house. She was on top of every detail and I finally got a good price for the market. I think of her as a...

pegperlman


April 20, 2018

Erica made herself available to us any time we needed answers to our questions concerning the contracts. We listed a condo with her and bought a home. She even went to our future property on several occasions to take care of some problems for us. Erica was a joy to work with!!!

joschweickart


April 18, 2018

Mindy is very personable and was pleasure to work with. She was able to quickly discern our needs and tastes in the type of house we wanted. Her expert knowledge of the area and even layouts of houses really streamlined the search process. Then was an excellent advocate during the negotiating...

rsb3d


December 13, 2017

Mindy was a godsend to our family. She was so wonderful and patient during our two year search for our perfect beach cottage. She is beyond knowledgable about the HB real estate market and local contractors, etc. Her service after the sale has been exemplary as well. We look forward to working with...

lgs747


July 23, 2016

Erica Thomas just sold our beach house. The buyer wanted a contract in 48 hours, and wanted to close in two weeks. We had 7 owners in five different states, and Erica pulled it off perfectly. She is not only knowledgeable, but patient and very professional. She was a joy to work with...

redclaynhg


April 19, 2018

Erica is a phenomenal human, and a first class real estate professional. In 2017 she sold our beach house for us while we were going through a divorce. Let me tell you, she navigated some emotional minefields with utter professionalism and sensitivity. Integrity, intelligence, a strong work ethic,...

chefjudya


April 20, 2018

I absolutely would recommend Beth Suggs, in fact I will go through her in any home buying I do in Holden Beach, NC. Her local knowledge is very impressive. I tried to mark the "best" marks above. She was masterful in her expertise, and always responded immediately. Her negotiation skills were...

geriannchase


July 24, 2016
The Best Real Estate Company To Sell Your Home
#1 Selling & Listing Firm on Holden Beach
Find Out How Much Your Home is Worth
Share this page: